Bremerton UMC Invites you!
Bremerton UMC, invites you to be a part of our Lenten Study group, on Sunday mornings. We'll share a light lunch at 12noon and then a speaker from our community will share about a particular Social Justice Issue. ( Our Congregation voted on their top five Issues back in November).
Each week will be organized in this way: the speaker will come for 90 minutes, offering a time for us to hear about the topic, and a time at the end for questions and answers.
What we ask is that you let the church know each week by Thursday, if possible, if you will be coming, so we know how many to prepare a light lunch for. We don't want you not to come, if you haven't signed up, but the closer to the true amount attending, is always helpful for the cooks.
We've wanted to have our three churches gather together from time to time, and we hope this might work out for you.
The topics and dates are:
March 5th Homelessness Speaker Kurt Wiest
March 12th Anti- Sematism; Anti-Muslim Rabbi Sarah
March 19th Sex Trafficking in Kitsap County Rosie Ludlow Exec. Director of Scarlet Road
March 26th Education TBA
April 2nd Immigration Rev. Lyda Pierce form the PNWAC
April 9th Economics Tentative Dereck Kilmer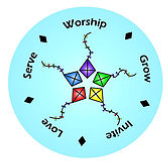 Bremerton United Methodist Church
1150 Marine Drive Bremerton, WA 98312