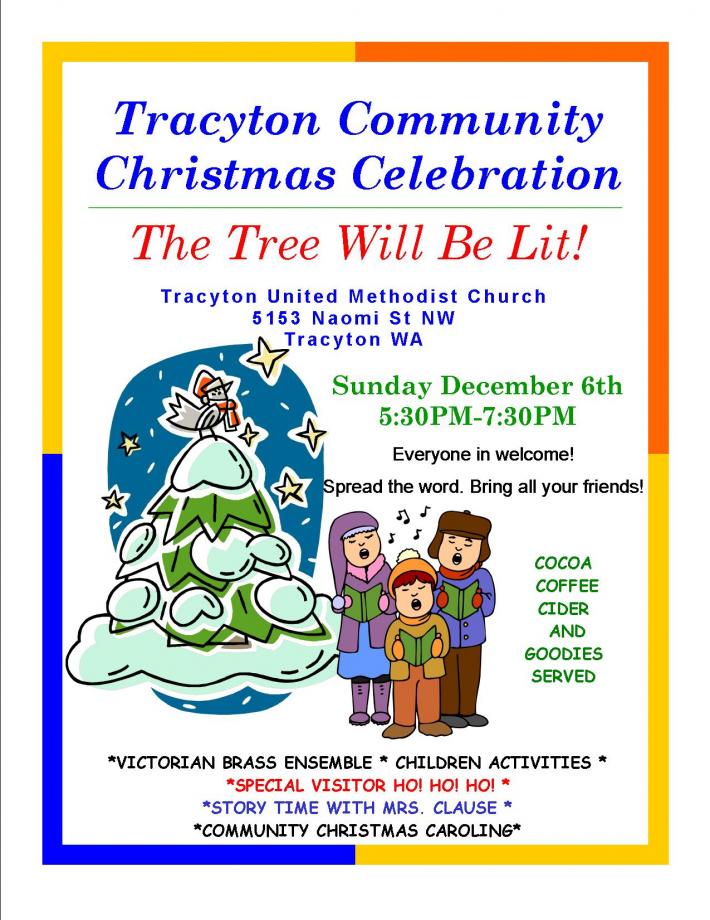 The Party is happening and the lights will be on!
Sunday December 6th
The party starts at 5:30pm with
Santa arriving at 6:00pm
Thanks to the generosity of many people from near and far the
Tracyton Community Tree
will be lit!
We truly hope you can join us! We would love to share this evening with you!
We'll have goodies to eat & hot chocolate to drink; there will be music & singing, arts & crafts for the kids. Santa will be making his list and handing out treats and maybe we'll even get a story from Mrs. Claus. Many were instrumental in helping to keep the tradition alive of lighting the Tracyton Community Tree and we would like to take this time to thank everyone who gave of themselves either, financially or physically, because without them there would be
"No Party" "No Tree"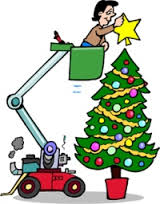 Thanks to all your support ...
On Saturday November 28th the new lights will be placed on the tree!
If you would like to come and watch, please do. We'll have the coffee on!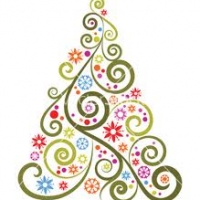 Tracyton Community Tree - See the Transformation Begin!
You are invited to come and watch the first step in the resurrection of the Tracyton Community Tree. Emel's Tree Service is scheduled to clear out the dead wood and spruce up the Tree,
Tuesday, September 22nd between 8:30 and 10:00 am.
wish we could be a bit more specific, but they never know how the job before us will go….Join together for coffee in Farrar Park (weather permitting) if not the church will be open!
We are in need of your help!
You may have noticed that the TRACYTON COMMUNITY TREE was unlit for the past 2 holiday seasons. The weather and lack of funding have taken their toll on the Tree and no solution was found for the 2014 Christmas season. The following is a bit of information, should we say,
straight from the horses mouth
: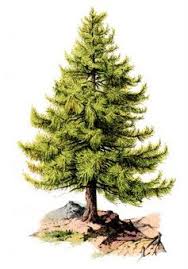 Greetings to my good and faithful human friends:
I am a 121' tree that resides at 5153 Naomi Street in a suburban town named
Tracyton
in the state of
Washington
. I am 1 hour and 15 minutes west of Seattle by ferry boat and car. A United Methodist church shares my wooded lot and its members have cared for me for years. Recently I learned that my name is
Douglas … Douglas Fir.
A long time ago, a relative of mine served as the unofficial
Tracyton Christmas Tree
but he became ill and had to be cut down. So, some 30 years ago I was chosen to take his place. Many strings of beautiful lights of red, green, blue, yellow, and white hung through my branches and I was topped by a large gold lighted star. Oh, it was a glorious and happy time for me. Each December the church and its members hosted a celebration for the entire community; my lights were lit; there was singing and lots of hot chocolate and cookies for all to enjoy. And, Santa and Mrs. Claus came to make all the children happier than ever. Throughout December, more of my friends came to visit me on foot and by car – right into the New Year.
A few years ago I fell on hard times. In 2013, my lights failed and had to be removed since they were old and unsafe. In 2014, my star was blown down and is no longer lit though it remains dangling in my branches. Way up high, a chain is wound around my trunk and I am having trouble maintaining my growth process. I have wondered if anyone cares.
But I have heard that there may be good times ahead for me soon. My friends and neighbors have formed something called
The Tracyton Community Tree Committee
. Apparently they care about me after all! The Committee members, including many of my neighbors, are collecting something called
MONEY
so that work can be done to make me healthy and beautiful again! Someone called an
arborist
is coming to climb up among my branches, remove all the dead wood, that nasty chain, and my old dead star.
Then I hear that the Committee is planning to collect more
MONEY
to hire a person called an
electrician
to make brand new strings of beautiful new many- colored lights that will be hung throughout my branches. And, a new star will be placed atop me. Doesn't it sound too good to be true?
The best news of all is that on
December 6th of 2015 at 5:30 pm
, my church friends will again host a celebration for many children and families to see Santa and Mrs. Claus, sing a lot of songs, eat lots of cookies and drink gallons of hot chocolate. To top it all off, I will have a "coming out party" of sorts as my new lights will be lit for the first time. Happiness will reign for all…….
If you can help by making a tax deductable donation in any amount, send it to the church on Naomi Street (Tracyton UMC, 5153 Naomi St, Bremerton, WA 98311) marked "Tree Fund" or go to any
Kitsap Bank Branch
and add your gift to the
Tracyton Community Tree Fund
. Thank you very, very much for caring and your help!!!
Tracyton Community Tree Committee -
People interested in helping with the project to put new lights on the Tracyton Community Tree are meeting periodically at Tracyton UMC located at 5153 Naomi St. We will post these meetings on our calander. If you can't come to the meeting, but still want to help, you can contact the church office at 373-6425.
If you would like a copy of the broucher that will give a little further information, you may download a PDF copy here:
http://media1.razorplanet.com/share/512433-3534/resources/907284_TreeTriFoldFlyer.pdf